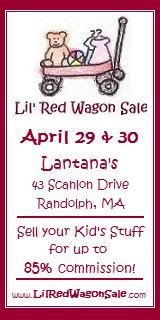 Lil' Red Wagon Sale - Spring/Summer Children's Consignment Sale & Craft Event
When: Friday April 29th 7:00pm - 8:30pm & Saturday April 30th 9:00am - 2:00pm *Half Price Sale Starts at 12:00pm
Where: Lantana's, 43 Scanlon Drive, Randolph, MA 02368
Brief Description of Event:  Children's Consignment Sale and Craft Sale event, where you can find quality items for sale at reasonable prices -- all in one place!  Shop for new and gently used baby, kids and maternity clothing, shoes & accessories, toys, games, baby gear, nursery items, and so much more!!  Shop for unique handmade treasures and vendor merchandise!!

Sellers: Clean out your closets, earn up to 85%, and shop a great Pre-Sale!
Volunteers: Get first pick on thousands of items for the very best bargains at the Volunteer Pre-Sale. Get chances to win gift certificates!
Vendors and business: Share child and family related products and services and grow your businesses with our shoppers!
New Moms & Military Family: Shop early, before the sale opens to the public!
For more information about Lil' Red Wagon Sale and our Events you can go to www.LilRedWagonSale.com
Don't forget to "like" them on Facebook!